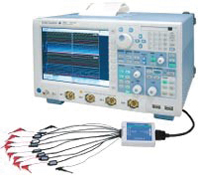 סדרת DL9000 MSO MODEL של חברת Yokogawa משלבת ביצועים
גבוהים עם רוחב פס של 500MHz/1 GHz, 4 ערוצים אנאלוגיים,
ו-Logic Input 32 / 16 ביט.
נתוני האוסקילוסקופ:
* Simultaneous measurement and analysis of 4 analog
channels + 16/32-bit logic.
Analog: 500MHz/1GHz frequency bandwidth.
Logic: Maximum toggle frequency of 250 MHz.
Analog and Logic Sampling speed: up to 5 GS/s.
Memory length: 6.25 MW/ch.

* High speed acquisition and quick response.
* Fast and powerful analysis of logic channels.
* Capture and separate anomalies easily with History
Memory.
* Extensive trigger functions for handling the most
complex waveforms.
* Versatile zoom and search functions.
* Lightweight and compact.
* Approximately 350 (W) 200 (H) 285 (D) mm.
* Weight: Approximately 8 kg.